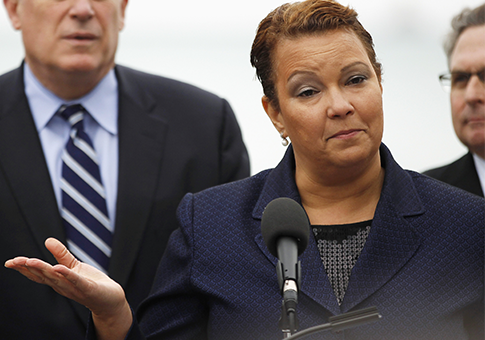 You may remember that just a few months ago, President Obama asserted that his Administration was the most transparent in history. Discoveries made this week, however, seem to show the opposite.
Over the past several days, research in to thousands of former EPA Administrator Lisa Jackson's emails obtained by the Freedom of Information Act (FOIA) has shown the EPA chief may have corresponded with a lobbyist from her personal email account, an act which can violate federal record-keeping rules like FOIA.
Here's what E&E Newswire reported on this story:
Among the hundreds of pages of emails released last week, one string of correspondence stands out: the interaction between Jackson and Alison Taylor, a vice president at Siemens Corp.

Taylor emailed Jackson's "Richard Windsor" account on Dec. 8, 2009, asking Jackson whether she "might be able to spare a few minutes to meet with Siemens' global sustainabiliy [sic] officer (who is my boss) Barbara Kux."

Jackson agreed but then sent a second email with the line: "P.S. Can you use my home email rather than this one when you need to contact me directly? Tx, Lisa."

The email is likely to anger congressional Republicans, who have expressed concern that EPA employees may have used personal email accounts to conduct official business. Jackson's email to Taylor is the clearest indication so far that the former EPA administrator used a third, undocumented email address.

In an interview yesterday, Horner asserted that the email was "as close to an admission as you'll ever find" that Jackson purposefully conducted official business on a personal email account.

"That right there is a smoking gun," he said, later referring to Taylor as a "lobbyist" whose conversations with Jackson should be public. "What they're saying is 'I'm about to break the rules.'"
Lisa Jackson went on to resign from the EPA just as questions of her email use were beginning to rise, especially as to whether or not she used the alias "Richard Windsor" in official correspondence..
Yet the story continues, as researcher and author Christopher Horner told the Washington Times there is "widespread use by Obama officials of nonofficial email accounts to conduct official business, by people trained to know that this is improper" [emphasis added]. Demonstrating this point, the Times reported that Lois Lerner, who is at the center of the IRS scandal focused on unfairly targeting conservative groups, is being investigated by the House Oversight Committee for using her personal email account to conduct agency business.
According to Horner, who conducted the research to expose both of these cases, officials may be using their personal email accounts to avoid criticism and public scrutiny. While this is illegal unless the official submits those emails to the public record, it is inherently difficult to monitor and enforce these rules. As a result, the obvious concern that arises in cases like these is whether or not these evasive email practices were intended to hide certain conversation from the public, especially those that are questionable in nature.
As if all of this wasn't enough, the Washington Examiner wrote this week that the Horner's research also reveals that the Obama Administration has been hiding the fact that it has made plans to build support for a carbon tax.
So much for the "most transparent" Administration in history.